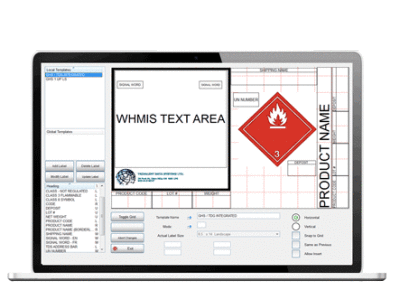 GHS Compliant Labels
TECIS is GHS Compliant Label software.  You can create, manage and print your labels anywhere from our cloud hosted label management software.  Plus, your labels will be compliant in North America both in the US and Canada.  Easy!
Feature Highlights
Dynamically linked with our SDS Document Management System which allows for the transfer of SDS information immediately to a label template

Label can be created using text or image or both
Standard and Compliant label templates for container or TDG integrated labels
Incorporate into regulatory templates other requirements such as bar coding, product code, lot number, weight, etc.
Label generation is compliant with WHMIS regulations and accommodates bilingual designations
Custom design your own labels with simple 'drag and click' interface to designate area for insertion of information on a built-in template or create a new blank label to completely design your own custom label
Ability to design multiple, various sized labels to fit and print on one stock label
Add your own corporate logo to the label or the logo of your customer
Use standard label stock inventory and print in colour
Use label stock pre-printed with colour symbols and the design tools will display the symbol to designer to visualize and thereby eliminate any overlay
Labels print to all Windows defined printers through Windows print manager
Label generator is specifically defined for high volume printing
Label Management System has intelligent print memory capabilities and will retain print properties from the last time a specific product was printed like paper tray location, paper size, orientation, text input fields etc.
The TECIS product gave us what we needed.  Speed, flexibility and accuracy.  There is no doubt that since using TECIS, our MSDS authoring has become more efficient and accurate and definitely done on a more timely basis.  I wouldn't hesitate to recommend TECIS to anyone that is looking to improve their MSDS authoring system.
Canada Colors and Chemicals is implementing TECIS in its 5 major warehouses across Canada for a full enterprise wide solution.  We have been able to see an almost immediate return on our investment through cost reductions with the implementation of TECIS.  A major advantage of the software is the ability to quickly and easily design customer labels.  This means that we can add value to our customers by responding to their unique label requirements, such as third party branding and lot tracking requirements.  This has also meant a significant reduction of label stock inventories
The software is great, and the support of the product is better than ever.  I don't know why all chemical distributors do not use TECIS.  Thank you for making this aspect of regulatory compliance so easy!
Trivalent was a recommendation from a previous vendor who would no longer be able to provide required services. It was a great recommendation.
I've been working with Trivalent for several years and I am always pleased with the level of professionalism, knowledge, and quick turn around on service requests.
I can always lean on them for support with inquiries, and they will help however they can. It has been a pleasure working with them.