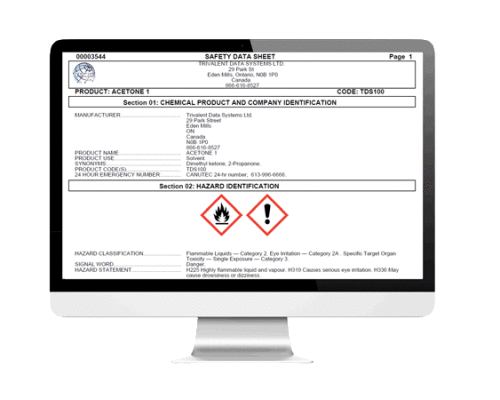 SDS Document Management System
TECIS is a full cloud based SDS Document management system designed to save you time and help you comply with North American regulations both in Canada and the United States for compliance of controlled products.
Feature Highlights
Easy 'Select and Click' step by step SDS creation with dictionary based selections
Create templates to quickly replicate multiple SDSs
Build product families to accurately manage and efficiently modify SDS document information
Create SDS document images in .pdf format to build an SDS archived library, or for easy distribution over the internet or your internal corporate intranet
Label creation is simultaneously generated with SDS creation
Create SDS in English and one button click to publish in any translated language
Canadian bilingual with Canadian French dictionary included for SDS & Labels
Publish SDS using your own logo, or with your customer or affiliated association logos
Search engine allows for quick scan and advanced search capabilities for easy access and retrieval
Multiple levels of user security to protect unauthorized SDS modification
Modify a dictionary phrase in any language and all linked SDSs will be automatically updated
Customer tracking and auto track facilities for SDS expiry or SDS modifications
Supplier expiry tracking and ability to attach supplier SDS image for finished goods or raw material
Use built-in eMail function to delivery updated SDSs automatically with personalized cover page
Post .pdf approved SDS to your own web site for customer initiated retrieval
Tracking and historical reporting of SDS modifications by user
ODBC compliant
Custom integration capability for TECIS to your ERP system
The TECIS product gave us what we needed.  Speed, flexibility and accuracy.  There is no doubt that since using TECIS, our MSDS authoring has become more efficient and accurate and definitely done on a more timely basis.  I wouldn't hesitate to recommend TECIS to anyone that is looking to improve their MSDS authoring system.
Canada Colors and Chemicals is implementing TECIS in its 5 major warehouses across Canada for a full enterprise wide solution.  We have been able to see an almost immediate return on our investment through cost reductions with the implementation of TECIS.  A major advantage of the software is the ability to quickly and easily design customer labels.  This means that we can add value to our customers by responding to their unique label requirements, such as third party branding and lot tracking requirements.  This has also meant a significant reduction of label stock inventories
The software is great, and the support of the product is better than ever.  I don't know why all chemical distributors do not use TECIS.  Thank you for making this aspect of regulatory compliance so easy!
Trivalent was a recommendation from a previous vendor who would no longer be able to provide required services. It was a great recommendation.
I've been working with Trivalent for several years and I am always pleased with the level of professionalism, knowledge, and quick turn around on service requests.
I can always lean on them for support with inquiries, and they will help however they can. It has been a pleasure working with them.